Do you need a cool ride for your toddler, something fun to attach to your pram that is safe and practical too?
Prams Guide have come up with the top 5 Toddler rides that will make every pram trip a fun one!
1. Mountain Buggy Freerider $119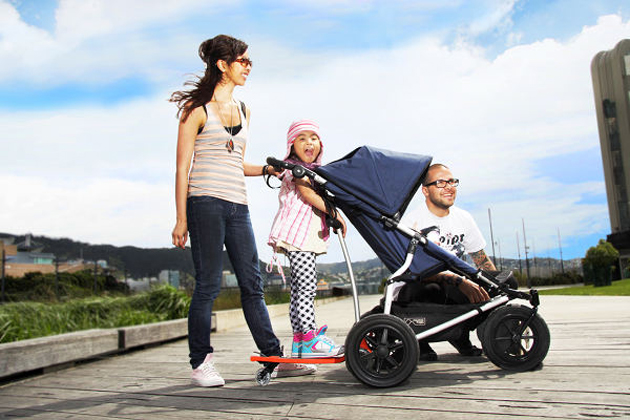 Fantastic fun for you and your toddler, the Mountain Buggy Freerider is a super cool stroller board, allowing your toddler and child to ride close to you, then in a click becomes a super fun scooter!
The Mountain Buggy Freerider makes it fun for toddlers to get on board, the fantastic Freerider Scooter has been designed with easy grips for little feet and hands, while also being simple for parents, the Mountain Buggy Freerider easily clicks on and off the pram without any effort.
The Mountain Buggy Freerider not only connects to all Mountain Buggy prams, but also has adaptor connections for most major prams and strollers on the market.
The Mountain Buggy Freerider is available in four colours: orange, black, blue and pink.
2. bugaboo wheeled board $119.95
Attach the Bugaboo wheeled board to the chassis of your Bugaboo stroller in just two clicks and see how easy it is to roll with two children. Sturdy construction keeps the wheeled board in place to guarantee a fun ride for your future pro-skateboarder.
Your toddler stands on the board for a fun ride, the bugaboo wheeled board clicks on and off, can be folded away when not in use. The bugaboo wheeled board is compatible with all Bugaboo strollers and is delivered with adapters for Bugaboo Bee, Bugaboo Cameleon³, and Bugaboo Cameleon with an additional adapter needed for Bugaboo Donkey.
3. Vee Bee EZ Rider $129
The new Vee Bee EZ Rider is a 2 in 1 toddler board which allows sitting or standing behind a toddler pram.
The Vee Bee EZ Rider has unique connectors fit most strollers & prams – including umbrella style & concealed brake style prams.
The Vee Bee EZ Rider  has a quick latch connector for fast fitting & removal and an adjustable mounting bracket offers optimum stability.
The Vee Bee EZ Rider has an adjustable saddle seat, moulded seat back & padded handle bars for your child's comfort. The storage strap stores EZ Rider when not in use.
The Vee Bee EZ Rider heavy duty rubber wheels & suspension absorb impact for a smooth ride and it's easy to assemble & fit.
Suitable for children from 15 mths & over to a maximum weight of 25 kgs.
4. Lascal Buggy Board Maxi $129
The Lascal Buggy Board Maxi is designed to attach to the upright tubing of a stroller or to the frame of a pram with a width between uprights of 26 – 50 cm. The connectors are made to fit square, oval or round tubing with a maximum circumference of 20 cm and no wheel axle required. The Lascal Buggy Board Maxi has an easy fit system that requires no tools for attachment. Features strap connector, suspension system, side reflectors, anti- slip surface. Suitable for children 2 – 5 years.
5. Kid Sit board & seat $189.99
The Kid-Sit board & seat in one fits strollers with a horizontal rear-axle. The Kid-Sit board is very solid, has a refreshing design, is super simple to use and is big fun for small kids.
No need for tools! The kid sit board rests upon the rear axle and is fastened by very easy to use 'zip-zap straps'. The seat is very easily (de)mounted. With one simple click you put the seat on. Just 'grip & push' to take the seat off whenever you like. You can use the board with or without the seat.
Perfect for Bugaboo prams and an advantage over the Bugaboo wheeled board is that you child can have a seat too!
Kid-Sit is suitable for most prams with a horizontal rear axle, including major brands like Bugaboo, Jollz, Peg Perego, Phil & Teds, Mountain Buggy to name a few.