Britax BOB Stroller
December 2012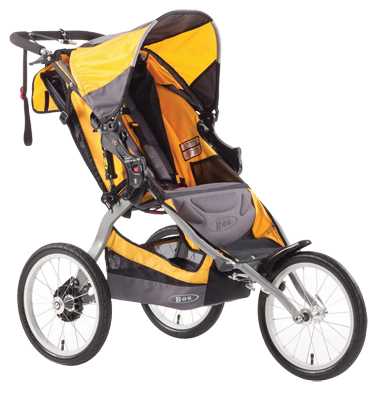 Britax Australia is excited to announce the arrival of the BOB high performance stroller range. Three new BOB strollers will be launched onto the Australian market in January 2013 giving active parents and bubs a new benchmark in high performance jogging strollers.
The BOB Revolution SE and BOB Revolution SE Duallie (double pram) are both designed for everyday use, off-road adventures and jogging, while the BOB Ironman is perfect for the serious runner to take off-road and, across tough terrain.
All three strollers have unique styling and are ideal for everyday use on pavement and exploring around town. They are all equipped with state-of-the art adjustable suspension, lightweight aluminium frames that have an easy two-step folding process, a large viewing canopy, plenty of storage, a five-point padded harness and ultra-padded adjustable reclining seats to ensure your child travels in comfort even when faced with the toughest terrain.
The Revolution range features a swivelling front wheel for superior manoeuvrability in everyday use, which can also be locked into place when jogging. The Ironman features a fixed front wheel for increased stability when jogging or when the trail gets rough, plus an additional handbrake for added stopping assistance.
In addition to the BOB strollers, there is a huge range of matching accessories also available to add comfort to your little one's ride. Accessories include the warm fuzzy seat liner, travel bag, handle bar console, weathershield, sunshield and snack tray.
Plus, a compatible Safe-n-Sound Unity Infant Carrier with BOB fashions and adaptors will be launched in March 2013, making BOB a complete travel system solution.
The BOB range was originally developed in 1994 in California and boasts an array of celebrity fans internationally as well as here in Australia including, Shannan Ponton, trainer on Network Ten's The Biggest Loser.
Shannan says of the range, "The BOB strollers help you integrate your little one into your workout routine – whether running, jogging, adding stroller lunges and squats, dips, push-ups and presses to your routine or simply going for a stroll the BOB range is perfect for active parents and mums looking to get their pre-baby body back."
Advertisement